Crusader
Crusader
Details
Tier:
4
Max/Min Health:
250/300
Max/Min Damage:
54/36
Fire rate:
{{{firerate}}}
Speed:
Average
Max/Min. Energy:
80/50
Mass:
High (250)
Spread:
{{{spread}}}
Error:
{{{error}}}
Recoil:
{{{recoil}}}
Crystal Cap:
320
Crusader is a Tier 4 ship in Starblast.io. It fires two lasers from the front at a slow speed that do moderate damage. It has the highest shield capacity in its tier, and can farm asteroids well by simultaneously ramming and firing. It is a rather large and bulky ship, slow and not very agile, and is hence very vulnerable to other players.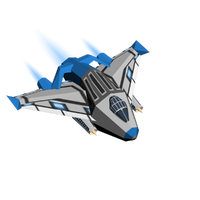 It is generally not recommended to main the Crusader, and instead focus on upgrading to the next tier. Upgrading Energy and Shield Regeneration a few times is a good approach, while avoiding all other ships. Because of its large size and relatively high bulk, it is easily killed by most ships, unable to run away because of its average speed and very low agility, and very low firepower. As a result, many enemy vessels will immediately target the Crusader upon sight, especially if it has significant cargo. If possible, find trustworthy allies for mutual defense while mining.
Upgrades
Shield
Capacity
Shield
Regen
Energy
Capacity
Energy
Regen
Burst DPS
(One-Shot DMG)
Energy
Per Shot*
Shot
Speed
Ship
Speed
Ship
Agility
Ship
Acceleration
No Upgrades
250
5/s
50
20/s
36 (12)
12
120
75
30
80
Upgrade 1
263
5.5/s
58
22.5/s
40.5 (13.5)
14
128
81
40
85
Upgrade 2
275
6/s
65
25/s
45 (15)
15
135
88
50
90
Upgrade 3
288
6.5/s
73
27.5/s
49.5 (16.5)
17
143
94
60
95
Upgrade 4
300
7/s
80
30/s
54 (18)
18
150
100
70
100
*Energy Per Shot increases with the "Damage" upgrade.
Closest upgrade path ({{{4}}})
Upgrades from
Upgrades to

{{Ships/{{{3}}}}}