U-Center
The U-Center is a Tier 4 ship in the U-Series mod. It could be considered to be a direct upgrade to the Tier 5 U-Octa, as it fires a spread of lasers at very different angles like the U-Octa. The cannon at the front shoots a lower damage pulse but at a much higher rate. Because of its high mass, good shields and energy regen, the U-Center is a fast miner, and is a decent counter to the other Tier 4's.
This ship is OP because when it's maxed out (except energy regen), it's basically an agile fast-moving U-Fusion with small energy cap, but in Tier 4. It has almost as much shield as the U-Fusion, and it regens at the same rate, while moving and turning much faster. It deals 240 damage/second through the front laser (with occasional shots from other cannons every 10 seconds), which is more than the U-Fusion's sustained 200 damage/second. But without the mass, this ship is much more vulnerable to the U-Smasher than the U-Fusion is.
But if you want to heal or powermine to the next tier, then you should upgrade energy regen.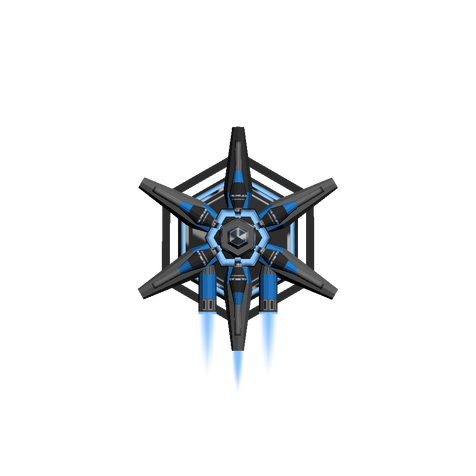 | Type | Energy Per Shot (Min/Max): | Damage (Min/Max): | Velocity (Min/Max): | Mirrored: | Recoil: | Frequency: | Error: | Bullets Spread Angle (Degree(s)): | # Of Lasers: |
| --- | --- | --- | --- | --- | --- | --- | --- | --- | --- |
| Pulse | 40/60 | 40/60 | 190/240 | false | 50 | 4 | 0 | 0 | 1 |
| Type | Energy Per Shot (Min/Max): | Damage (Min/Max): | Velocity (Min/Max): | Mirrored: | Recoil: | Frequency: | Error: | Bullets Spread Angle (Degree(s)): | # Of Lasers: |
| --- | --- | --- | --- | --- | --- | --- | --- | --- | --- |
| Pulse | 160/200 | 80/100 | 190/240 | true | 150 | 2 | 0 | 0 | 1 |
| Type | Energy Per Shot (Min/Max): | Damage (Min/Max): | Velocity (Min/Max): | Mirrored: | Recoil: | Frequency: | Error: | Bullets Spread Angle (Degree(s)): | # Of Lasers: |
| --- | --- | --- | --- | --- | --- | --- | --- | --- | --- |
| Pulse | 160/200 | 80/100 | 190/240 | true | 150 | 2 | 0 | 0 | 1 |
| Type | Energy Per Shot (Min/Max): | Damage (Min/Max): | Velocity (Min/Max): | Mirrored: | Recoil: | Frequency: | Error: | Bullets Spread Angle (Degree(s)): | # Of Lasers: |
| --- | --- | --- | --- | --- | --- | --- | --- | --- | --- |
| Pulse | 80/100 | 80/100 | 190/240 | false | 150 | 1 | 0 | 0 | 1 |
Closest upgrade path (U-Series)
Upgrades from
Upgrades to