U-Cruiser
NOTE: As of version 4.0, some information may be missing or outdated.
The U-Crusier is a Tier 2 ship in the U-Series mod. It has two side cannons which fire high damage pulses and a central cannon which rapidly fires a pulse.
Strong Against: Anything Tier 3 or 1 when maxed, especially against Tier 3 ships with no upgrades and evenly matched with U-Quads.
Weak Against: Maxed Tier 3 ships and everything above it.
Playing with the U-Cruiser
[
edit
|
edit source
]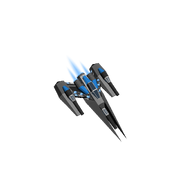 Although the U-Crusier is usually not something you would want to remain as, they have some great advantages while you aren't able to upgrade to the next Tier.
The U-Cruiser tends to have a somewhat good recoil which makes escaping useful and quick. This can make mining a little hard but not that much since you are not that slow and can quickly get back to the asteroid to finish it off.
Just like said before, remaining as the U-Cruiser is a bad idea, as other people will have much higher tier ships that will easily crush a U-Cruiser. Sometimes, the U-Cruiser would do very well against a U-Sentry or an H-Warrior due to its decent firepower and focused lasers. Even maxed Tier 3s can struggle against a U-Crusier if you use it properly and know how to aim.
The U-Penta and U-Spread are pretty easy kills, since they lack focused fire.
Playing against a U-Cruiser
[
edit
|
edit source
]
| Type | Energy Per Shot (Min/Max): | Damage (Min/Max): | Velocity (Min/Max): | Mirrored: | Recoil: | Frequency: | Error: | Bullets Spread Angle (Degree(s)): | # Of Lasers: |
| --- | --- | --- | --- | --- | --- | --- | --- | --- | --- |
| Pulse | 30/40 | 30/40 | 190/240 | false | 100 | 4 | 0 | 0 | 1 |
| Type | Energy Per Shot (Min/Max): | Damage (Min/Max): | Velocity (Min/Max): | Mirrored: | Recoil: | Frequency: | Error: | Bullets Spread Angle (Degree(s)): | # Of Lasers: |
| --- | --- | --- | --- | --- | --- | --- | --- | --- | --- |
| Pulse | 80/120 | 40/60 | 190/240 | true | 200 | 2 | 0 | 0 | 1 |
Closest upgrade path (U-Series)
Upgrades from
Upgrades to