U-Quad
The U-Quad is a Tier 2 ship in the U-Series mod. It has 2 cannons at the front which each fire two pulses stacked on top of each other.
Although it is a tier 2,it is capable of killing all maxed tier 3s and even a u-demon with unmaxed shields. It is very OP when maxed and should not be underestimated. Tread carefully when facing off against these, you don't know if they're maxed or not. It has stats slightly better than the standard U-sniper, but better in every category other than agility. Only 2X the fun!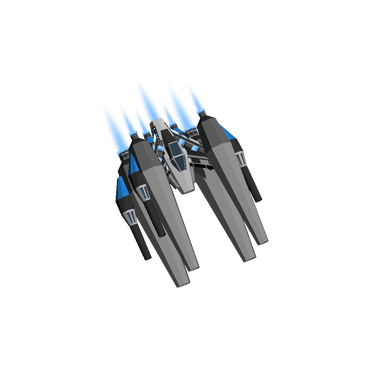 This ship kind of looks like 2 U-Snipers stacked on top of each other but there's only one cockpit.
| Type | Energy Per Shot (Min/Max): | Damage (Min/Max): | Velocity (Min/Max): | Mirrored: | Recoil: | Frequency: | Error: | Bullets Spread Angle (Degree(s)): | # Of Lasers: |
| --- | --- | --- | --- | --- | --- | --- | --- | --- | --- |
| Pulse | 80/120 | 40/60 | 190/240 | true | 100 | 2 | 0 | 0 | 1 |
| Type | Energy Per Shot (Min/Max): | Damage (Min/Max): | Velocity (Min/Max): | Mirrored: | Recoil: | Frequency: | Error: | Bullets Spread Angle (Degree(s)): | # Of Lasers: |
| --- | --- | --- | --- | --- | --- | --- | --- | --- | --- |
| Pulse | 80/120 | 40/60 | 190/240 | true | 100 | 2 | 0 | 0 | 1 |
Closest upgrade path (U-Series)
Upgrades from
Upgrades to